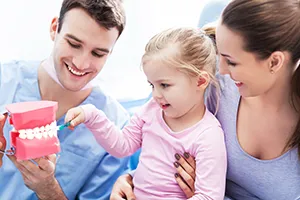 Many children experience dental anxiety—just the thought of sitting in a dental chair makes some kids' hearts pound and their foreheads sweat! However, here at the office of Dr. Maryam Pearose, we make it a priority to ease those fears. Dr. Maryam Pearose understands, and that's why we offer sedation dentistry help your child receive the care you deserve!
What causes dental anxiety?
Children, teens, and adults experience this common phobia for several reasons. Some have had bad experiences at the dentist or have a fear of needles. Others may be claustrophobic or cannot sit still for long periods of time. There are even individuals who are so unnerved about the condition of their teeth they just won't see a dentist anymore!
Unfortunately, when you avoid the dentist, more than just smile aesthetics suffer. Premature tooth loss, poor systemic health, and more can occur when people avoid the necessary routine and restorative dental treatments.
What is sedation dentistry?
Sedation dental treatments calm fears and help patients relax so they can receive the services they need. At the office of Dr. Maryam Pearose, the most common kind of dental sedation is called oral conscious, or moderate sedation. To allay fears and calm high anxiety, Dr. Maryam Pearose prescribes a tranquilizer in pill form to be taken just prior to a dental appointment or when the patient is actually in the treatment room.
Common sedation medications are Valium, Ativan, Versed, and Halcion. These medications are so calming that the individual may even nap during their treatments! Used in conjunction with local anesthetics, tranquilizers confer complete comfort, yet allow patients to retain the ability to respond to verbal commands. A friend or loved one then drives the patient home afterward.
Besides oral sedation, patients often receive nitrous oxide or laughing gas. Known to relax to the point of giddiness, laughing gas wears off quickly, making it a great option for children and young people. The dentist may use it together with oral conscious sedation or local anesthetic.

Let the knowledgeable and compassionate team at the office of Dr. Maryam Pearose help. Call the office to arrange a dental appointment. Your dentist will show you how easy it is to get your child on the road to good oral health.