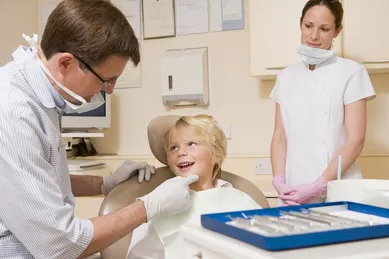 Dental restorations such as dental fillings can help fill cracks in your child's teeth and treat tooth decay.
Structural defects in a child's teeth such as cracks or chipping could be unappealing and affect their function. The office of Dr. Maryam Pearose in Foothill Ranch, CA can help restore a smile's function and appearance with dental fillings.
What Are Dental Fillings?
Dental fillings are the most popular tooth restoration. It's a multi-functional restoration to repair minor damage to the tooth. Damage to your child's tooth from accidents such as cracks and chipping might benefit from restoration with a tooth filling. Dental fillings could also be part a child's treatment for tooth decay. After removing the damaged part of their tooth, your Foothill Ranch, CA, dentist can strengthen the tooth with dental fillings. Dental fillings can be made from silver amalgam, porcelain, glass ionomer, composite resin, or gold. Our dental team can fit them with tooth-colored resin fillings. They match the fillings to the natural tooth color making them unnoticeable.
Getting Dental Fillings
The procedure for getting dental fillings isn't as painful as you think because your dentist will give your child an anesthetic first. Next, they will examine the target tooth. Using a special tool, they'll remove the damaged area of the tooth. The dentist might proceed to use an acid gel to eliminate bacterial buildup in the tooth. After preparing and isolating the target tooth, the dentist will begin to bond the dental filling. If your child is getting composite resin fillings, the dentist will treat the tooth with a special UV light. At the end of the procedure, the dentist will polish the tooth for a natural sheen. Now that your child has gotten dental fillings, you'll need to follow up with proper oral hygiene and dental practices.
There's hope for your damaged tooth with tooth fillings. Call (949) 716-2800 to schedule your appointment with your Foothill Ranch, CA, dentist at the office of Dr. Maryam Pearose to learn more.